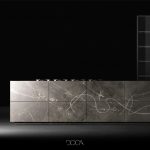 Doca
Innovation, elegance, quality, ... The evolution of furniture has arrived and DOCA is the company that has achieved exquisite designs and cutting-edge solutions to prove it. Clear ideas, positive vision, constructive criticism, a desire to improve and a lot of experience, is what a team of professionals' treasures. Consistent with the reality we live in, but looking to the future, trusting in its possibilities and praised by the experience.
DOCA is a brand of high-end kitchen furniture and cabinets with its own design and manufacture that began its activity in 1980 in Vinaroz (Castellón). Halfway between an industrial manufacturer and the finishing of an expert cabinetmaker, its pieces seduce a sensitive clientele who are looking for unique and customizable furniture. DOCA is a guarantee of commitment to customer expectations and to the furniture that manufactures, achieving unique results with style and quality as premises.
The business is present, through a network of 128 authorized distributors, in 23 countries spread over Europe, the United States, India and China. Continually looking to the future and backed by its experience, the company currently employs about 80 people and constitutes a safe bet when it comes to acquiring furniture and kitchen and dressing rooms.
Its turnover in 2018 was 8 million euros, a figure that it expects to rise to exceed 9 million by the end of this year. In the middle of this year (May 31, 2019) its growth is 26% compared to the same period of the previous year.
DOCA is currently focusing its efforts on continuing its international expansion and on continuing to increase investment in R&D and high-tech technological equipment.