Samsung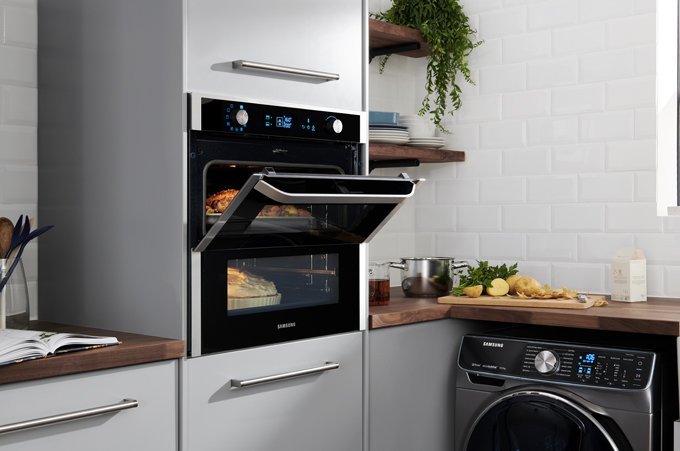 Over the past 50 years, Samsung Electronics has been at the forefront of innovation, introducing cutting-edge technology across consumer electronics and home appliances. A key area where this impact is clear is in the kitchen. The wide range of appliances from Samsung have been designed to cater for anything life throws at you in the kitchen, with a product offering that answers genuine needs and enables consumers to transform the way they live.
A prime example of this is the award-winning Family Hub™  refrigerator. Not only does the Family Hub™  provide top-of-the line refrigeration technology, it sets a new standard for connected living, bringing the family together in the kitchen whilst freeing users up to focus on what's important to them. Combining cutting edge technology, along with SMART features such as the Meal Planner and View Inside cameras, consumers can plan meals for the week and check the contents of their fridges for better organisation and food management. In addition, the clever Twin Cooling Plus™ technology keeps food fresher for longer, meaning food is always eaten at the optimum quality.
In terms of the current built-in product offering, Samsung appliances cover everything from ovens to dishwashers to meet consumer needs without compromising on functionality and performance. Our cutting-edge Virtual Flame™ Induction Hob is one of the key products, visually indicating how hot each ring is using glowing LED lights. These lights glow in accordance with the temperature of each cooking zone, emulating a traditional gas flame. It also includes a Wide Flex Zone allowing multiple dishes of varying shapes and sizes to be cooked at the same time, and a clever 'Keep Warm' button to keep food at the perfect temperature until ready to serve.
Another key product is the Dual Cook Flex™ oven which allows customers to cook at two temperatures when needed, with a hinged Flexible Door that gives the choice to access the full oven or just the top half, without interrupting what's cooking below. By providing a more energy efficient way of cooking, the Dual Cook Flex™ can save 20% on energy* when using only the top half. SMART features also allow users to remotely control and monitor the oven using their smartphone. The Dual Cook Flex is truly our most flexible oven yet, offering endless cooking combinations.
Finally, the Fully Integrated Dishwasher with WaterWall™ technology revolutionises dishwashing delivering outstanding coverage and cleaning results. Our innovative WaterWall™ technology creates a sweeping wall of high pressure water to cover those hard to reach places in the bottom rack and perfectly clean every dish in every corner. The Air Flow Drying with Auto Open function automatically opens the door at the end of a cycle, allowing steam to escape and resulting in better drying results.
*Upper vs whole compartment on small cake setting at convection 155°C (IEC-60350)